---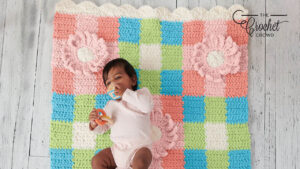 The Crochet Gingham and Flowers Baby Blanket is ultra-soft and voted the best project of choices given to film up in a tutorial.
This baby blanket is completed like traditional graphghan work. I felt during filming that the Bernat Blanket O'Go format would be awesome for this as the O'Go can be split apart to work with smaller sections. I can see a concept like this being more random like patchwork.
The changing of the pattern is multiples of 7 + 1 but be careful as the extra chain 1 needs to be the first block colour that is used.
The extra careful design was done with the starting chain. Thank goodness the starting chain is a solid colour as it's makes this so much easier. Each block is made up of 7 single crochet. Once you count the first time, it's easy to follow the flow as it's obvious where the colours stop and start. Each block is 8 rows as well.
More Ideas
---
Tutorial
Releasing April 8, 2022, at 2 pm AT.
---
More Baby Blankets