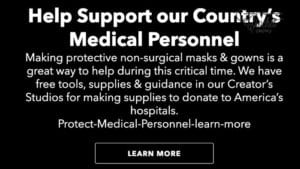 JOANN Make Protective Non-Surgical Masks and Gowns
For those inclined to step up and help with the requests for Non-Surgical Masks and Hospital Gowns, JOANN Fabric and Craft Stores has pulled together resources on how to make these items.

There are also some questions and answers that are on the page. They are also being sensitive to not congregating. They are practicing social distancing at the stores and sanitizing working spaces.
If this calls to your heart and you have the desire to help. Click the above blue button link to learn more.
The Crochet Crowd is not recommending any masks be crocheted as the holes between crochet stitches exist. Please follow government regulations and best practices.