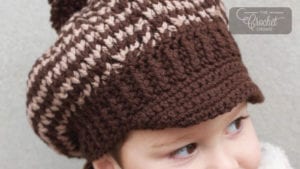 Newsboy Hats
In this pattern of the Newsboy / Newsgirl Hats, the pattern is showing two different colours to show you what it looks like with both boys and girls versions. If the pom pom doesn't suit your child, just omit it when you create it.


I really like the area above the brim on this hat plus the added visor area. It's really cute to be honest with you.
Choose your colours to match the young one in your life to match their personality.
Get this free pattern, it's called the Newsboy / Newsgirl Hat.
Join us for the month of interesting hats that are free.