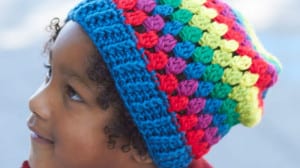 Granny Stripes Hat
A unisex option for a granny stripes hat for two age categories of kids. Pattern included is for ages 2 - 4 years old and 6 - 8 years old. Those 5-year-old sizes are in between the two sizes.
The hat is really easy to follow along for the instructions. There is a total of 6 colours used in this hat but you can play with different options for colours and even use variegated yarns to spice it up a bit. The choice is up to you.
The hat starts at the top and is the same for both sizes until a certain round where an additional growth round is added to jump it from a 2 - 4-year-old size to a 6 - 8-year-old size.
I found this pattern easy and quick to work up. Great gifts and also a fabulous had for charitable giving as well.


More Hat Patterns