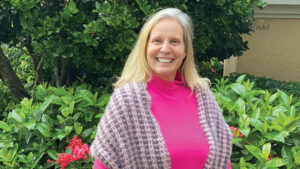 Anita here… I started my yarn journey with The Crochet Crowd in 2016.  The extent of my yarn knowledge was purchasing that colourful, soft, squishy stuff for others.  I needed more, I wanted to learn to crochet.  I started searching around the web and out pops Mikey.  Giggles and smiles while learning…
This is the guy for me!  Right there, at that moment, this journey began.
---
What a journey it has been.  The yarn has expanded my life beyond my dreams.  I now have…
I have a yarn brain now!  I think of yarn each and every day with Tunisian crochet being my passion.  Collecting all those stitches on my hook excites me.  I can't wait to take them all off and put them on again.  Before I know it, my creation is finished.
I have endless learning possibilities.  I enjoy creating designs and writing patterns.  I am constantly experimenting with my hook in hand…"what will happen if I go in this, instead of that?"  Next thing I know, I am on a journey of hooking up something.  What will it be?  I am realizing the possibilities, with a hook in hand, are endless.
I have tons of yarn friends.  The friendships I have made on this journey have enriched my life beyond any thought I could have imagined.  These friends aren't down the street, they are around the world.  We are in different time zones and even on different days of the week.  When we want to connect we just drop in, with a simple click on our keyboards.  when we need more, want a closer connection, we book a vacation with "The Boys".  Time spent with friends… priceless.
An opportunity to chat with you about yarn.  I am excited to share this part of my journey with you.  I will be sharing my designs with you and I am hoping that they bring you as much joy as they do me.  I also hope to help Michael by lessening a piece of what's on his plate.
---
My grandpa called me "Sunshine".  I am here to share my sunshine with you.  Thanks for sharing your journey with me.  How can I help you learn and grow with your crochet journey? Please leave me a comment below.
---
More Ideas
---
Have You Seen My Pocket Shawl?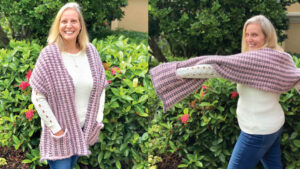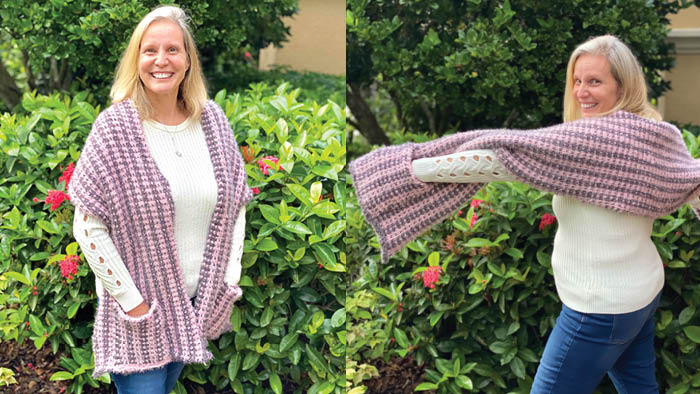 This is my Tunisian Simple Pockets Wrap. I'm working on those stitches and came up with a combination that suits me.
The Tunisian Simple Pockets Wrap pattern is designed by Anita Grover who's first passion in the yarn arts is Tunisian.
Rightly named as using the word as simple as the Tunisian Simple Stitch and Tunisian Slip Stitches are used in this. The stitching combinations create a striping effect but it also creates the appears of a checkboard. It's really neat.
This is using Red Heart Hygge yarn.

Tutorial