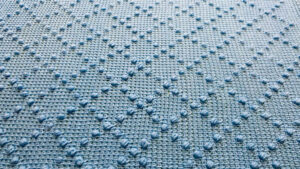 New Tunisian Bobbles Baby Blanket designed by Anita Grover will have you 'bob bob' bobb'lin around with diamond formation for her latest baby blanket.
I am bursting with excitement to share with you my latest Tunisian design.  It is the Bobble-licious Baby blanket.  I created it using Bernat Baby Sport yarn.  It is the perfect yarn.  It is lightweight, soft and defines the stitches perfectly.
I choose to use the Tunisian Simple Stitch and I modified the bobble stitch to make the bobbles be the perfect tiny size for your little ones.  The texture of this blanket is amazing.  Your little ones are going to enjoy feeling the texture of the bobbles while being wrapped in lots of love.  I would call this an intermediate pattern.  The stitches are easy but there is counting necessary to keep the bobbles forming the diamond shape.  This may look intimidating but don't worry, we can do this together.
I hope you enjoy this as much as I have enjoyed creating it.  I totally enjoy Tunisian crochet and realize the lack of patterns available.  I am giving this to you so you have a few more options available for creating a blanket that brings you joy while making it.  There is nothing better than seeing a precious little one wrapped in love.


More Ideas
Tutorial
Not at this time.
More Ideas from Anita
No post was found with your current grid settings. You should verify if you have posts inside the current selected post type(s) and if the meta key filter is not too much restrictive.
More Tunisian Patterns