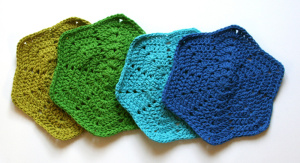 Scrub Those Dishes with a Cotton Wash Cloth
Many crocheters love to crochet items for their kitchen. For a starting point in crochet, we tend to do smaller projects at first to gain our confidence in reading patterns and whipping off projects one after another.


For scrubbing and general washing of dishes, you are best to use cotton based yarns. Acrylics and other types of yarns will not hold up strength wise as well as other yarns take far longer to dry; therefore mold and mildew will definitely be an issue.
Try this free pattern, it's simple called, Wash Cloths by Lion Brand Yarns. This pattern goes beyond a square or rectangle and for some of you, it may be a bit of a challenge to enhance your skills.
psst. For June 2014, Lion Brand has 15% off of the Kitchen Cotton Yarn. I didn't even realize this until Diva Dan mentioned it this morning during breakfast.