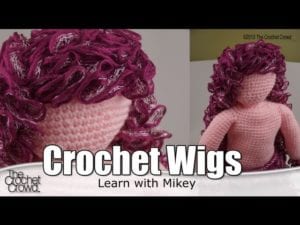 Learn How To Crochet A Permanent Wig for Dolls
Many fans have requested the written instructions for this wig concept for dolls. You can use this same concept for life-size hats if you wanted to make an interesting Halloween Wig and more.
Here's the thing though, it's easier to show you my method of thinking than it is to write out all of the instructions. It's so much easier once you see the method to the madness.
The reality is, once you get your first line done... which is your bangs area, the rest of the lines will fall into place naturally if you understand what to look for. Watch my video tutorial provided for a demonstration on how to plan the head. Continue watching the tutorial to show how to crochet the hair directly onto the doll.
This pattern is only available in video format.
Tutorial
Pattern Suggestions
Crochet Amigurumi Pattern Ideas