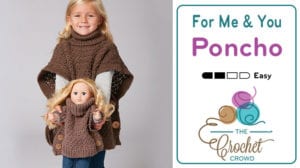 Crochet Poncho for Girls and Doll
Introducing one of the most demanded tutorials of the matching set of Poncho for Girls and their matching American Doll. The two ponchos are identical to each other.
The pattern provided gives the sizes of the poncho for 2 years, 4 years and 6 years of age. The doll size is also provided separately in the pattern.
The tutorial walks you through how to read the pattern so you can get the size that is right for you. Then, I will take you through start to finish the doll version as the steps are the same but the dimensions are different. You can use the lessons and refer to the pattern to pull the information for the kid-size you are doing.
This pattern came out in late 2015 and I have been intimidated by it. To my surprise, the doll version didn't take as long as I expected. The most time used is in the ribbing. There are 5 components. Back and front, two side ribbing stripes and 1 collar. The buttons are decorative and add to the charm if you wish.


Pattern Suggestions
Tutorial
The tutorial walks you through the doll size, please substitute information for the kid sizes by referring to the pattern.
Some Poncho Pattern Ideas