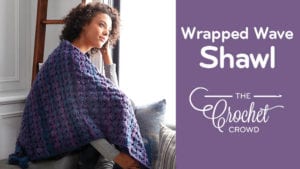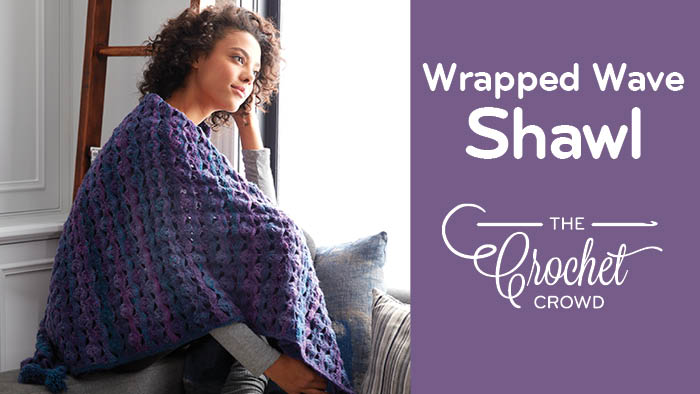 Crochet Wrapped Waves Blanket Shawl
This beautiful square blanket shawl is using Kroy Socks FX yarn for lightweight and extremely long-lasting projects. It's called the Crochet Wrapped in Waves Blanket Shawl.
Kroy Socks yarn is on the finer side of life. Providing the delicate touches of a smaller crochet hook. With this yarn being made with partial nylon, it has a bit of a stretch that bounces back. A shawl that moves with you instead of restricting you.
In the past, we've done a wrap using Kroy Socks called the Crochet Globe Trotter Shawl. The difference between using a regular weight or even chunky weight yarn is magnificent. A shawl really has a fabulous impact.


Pattern Suggestions
This shawl Wrapped in Waves Blanket Shawl is square and is made up of a repeating of rows 2 – 7. The model really isn't showcasing the stitchwork as nice as it truly appears! I did a small sample to get me a personal, upfront, view of the stitchwork and it's so lovely.
Yarn Substitution to Caron Simply Soft
The shawl requires 21 balls of Kroy Socks FX but have no fear. I have figured out the multiples for you to change up the yarn and hook size to match a budget that may be more in line with you. So for those who can afford it greatly… for those who can't, let's substitute.
I recommend using Caron Simply Soft, 5 mm or H Hook.
Chain 195 to start to give you close to the 55″ long. Crochet the rows until it reaches about 55″. I believe it may take about 4 balls of Caron Simply Soft to make the substitute.
You will see my Caron Simply Soft in the tutorial and see the size difference with my substitution, so the starting chain will be much smaller due to the increased hook size and thickness of the yarn.
The pattern isn't hard and I break down the diagram in the tutorial to help you further.
Tutorial
More Wrap Patterns