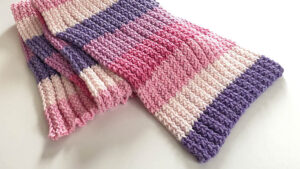 The Loom Knit Double Ribbed Stretchy Wrap is my latest creation on the 22″ flat loom. It's using a double ribbed wrapping technique.
Sizing
The wrap is 76″ long unstretched. It is 13″ wide unstretched but will stretch to 20″ once put on. It's the Double Ribbed Stitch that causes the wrap. The stretch is what is using the wrap to form your body shape.
Tutorials below show how to cast onto the 22″ loom. It also shows how to knit that the stitch and cast off using a stretchy bind off. I have included a second tutorial on how to deal with yarn knots or changing from one ball to another.
Materials
I used only 3 balls of Caron Chunky Cakes. Colour shown is Ballet Sorbet. Using the 22″ loom and a yarn pick. You will need a tapestry needle.
Important Tips
You will notice the striping widths are nearly close to each other though we have gone through 3 balls of yarn. When jumping from one ball to another. Ensure the next colour in the next ball is in sequence. This may require you to start the next ball partially into the ball itself and not where the manufacturer has the end of the colour.
Watch for knots in the ball. Sometimes, the colour on the other side of the knot can be shorter than usual. I compensated for this as I had extra yarn because the second ball was started past the colour that was going to be short. Use the technique below in changing over the yarn if the need arises. This happened to me.
When you are ready to cast off, be sure to leave enough yarn in the ball so you can do the stretchy bind off. Try not to let a new colour go into the project just for the bind off as it will look out of place. Myself, I didn't leave enough and had to use that second ball colour that I skipped over with to join new yarn during the cast off at the end. You cannot notice that. The bind off requires you to use more than usual yarn for the ending as it's wrapped but then each stitch is wrapped again during the process.
Final Notes
I feel writing a pattern specifically for this is pointless. The stitching technique is easily demonstrated. Just use almost 3 balls of the Caron Chunky Cakes and the project will work out. The steps demonstrated at very easy to see how it's done and then you can put your mobile device down and knit without much concern.
More Ideas
Tutorial
The wrap uses the 22″ loom. This demonstration below is showing the smaller loom but it's the same stitch on the larger loom.
How to change the ball over or deal with knots in a ball of yarn.
More Loom Knitting