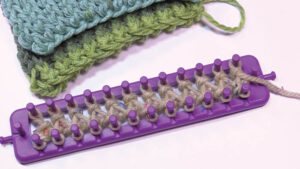 The Loom Knit Stretchy Cast Off provides a finish to the project that allows the final edge to be flexible, aka stretch.
You will see in the tutorial of an example I did with a non-stretch cast-off and see the difference.
One extra step is provided during this cast off that acts as a chain 1 to allow the stitches to spread out. The difference between regular bind off and this method is visually really different.
If you were to ask me directly which method to cast off, I would choose this one. But I think it's helpful to know both ways. I have provided the no-stretch version below for a reference point in case you need to make a decision.
More Ideas
Tutorial
More Loom Knitting