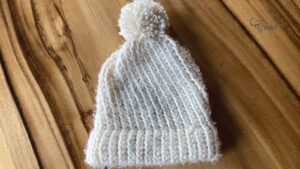 The Loom Knit So Soft Baby Hats were an original pattern by me in 2012 that was changed in 2020 to be better in sizing and also update the tutorial made for it.
The original video was still up but in hidden mode so people couldn't search for it. Originally, I was just going to write a PDF for the video but I realized after years of understanding patterns and fitting to the human form, that my size in the video was way off. I used resources from Yarnspirations as well as human charts for sizing to adapt the pattern. The new pattern shown here has a wider brim and is taller.
This is for a baby approximately 6 months to 1 years.
This is a beginner level type of project to do knitting with the sticks.
More Ideas

Tutorial
More About Looms