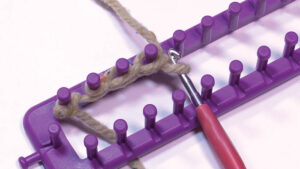 Cast on using a crochet hook to make a flat panel on a flat loom. You can save yourself time and do all steps in one for this cast-on method.
This same method can be done for the round looms as well. Instead of wrapping the loom a minimum of 2 times. You can zip along with a crochet hook and chain around the peg to do the cast-on technique.
Hook size doesn't matter as long as you can grab onto the yarn. It's the peg size that determines the final gauge. 
You can also use this method if you intend on doing a full circle around a loom as well. Shown here is not for casting on when jumping back and forth across the loom.
More Ideas
Tutorial
More Loom Knitting