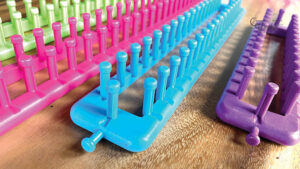 The differences between the flat looms and how to consider using them. Use a portion of a large loom or use the full loom for bigger projects.
These looms can be used in different ways.
Use the loom to jump back and forth across the loom to double-side the loom knitting project so both sides of the project are the same.
You can use the loom as a round circle, assuming the pegs are evenly spaced from each other.
You can just use a small portion of the loom, just use a few pegs instead of the entire loom itself.
You can create flat panels with just one side being the standard loom knit appearance. The flat panels can be the entire loom without going in a continuous circle. This can double the width of a project.
More Ideas
Tutorial
More Loom Knitting