---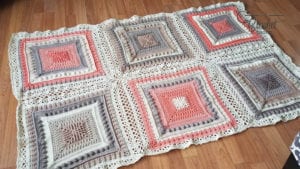 If you love the Crochet Study of Texture original pattern, you may just love the Celtic Lace Study of Texture is only a portion of the Study of Texture but made in motifs with a Celtic lace join. This is the Celtic Study of Texture Afghan Pattern.
This has been adapted by Danielle Thompson for figuring this out and is her example.
Rachele Carmona from Cypress Textiles is the creator of the Celtic Lace Join.
With my original concept with adaptations created by Danielle plus using Rachele's Celtic Lace join, the three of us have come up with something awesome together.
Materials
Each motif takes 1 ball of Caron Cakes. You can see, she used 2 different colourways for this example.
For the Celtic lace joining, she used 1 ball of Bernat Supervalue in Aran colour.
The Differences
Danielle's version follows until Round 23. You will notice, I have changed the round 3 slightly to include 1 extra stitch to provide the right balance of stitches. That has been marked on the downloadable PDF.
I have included the Celtic Lace Joining Section as well.
Video Tutorials
Follow the Study of Texture and make the adjustment of adding in an extra stitch on one side of the corner. For example, (2 dc. Ch 2. 3 dc) in each corner instead. This will give you the multiples of 5+4 needed. End finishing round 23 and then start another motif.
For the Celtic Lace Join. Follow the tutorial as is.
Pattern Suggestions
Crochet Afghan Pattern Ideas