---
Crochet Study of Texture Shawl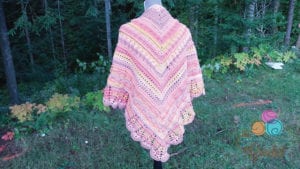 The Crochet Study of Texture Shawl is a shawl that is intended to push your limits for improving your stitchwork. The pattern is comprehensive with 59 rows of instructions to complete this masterpiece. This is 62" across by 35" deep.
There will not be a specific tutorial make for this shawl as many of the stitches already exist in previous tutorials. I will provide those below.


More Pattern Ideas
The difference between the Study of Texture Afghan and this is pretty much everything but has to be written differently because you go back and forth in the rows.
More Pictures of this Shawl
Tutorials
Study of Texture Original Afghan Playlist. Most stitches are shown here. However, watch what is the right side and wrong side. For example. Double Crochet Back Posts on the original afghan could be Double Crochet Front Posts.
Comfort Shawl showing Exact Scalloped Edging Used
Start at the 17:30 minute mark.
More Shawl Ideas