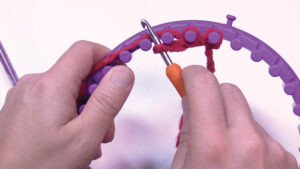 The Loom Knit Cast onto a flat or round loom is made quicker with the Chain Cast On.
Instead of wrapping the loom at least twice to begin the cast on, you can use a crochet hook to do the same process.
Follow the tutorial below to see how it is done. You just have to be comfortable with a crochet hook in order to make this work. You may enjoy casting in this way instead.
More Ideas
Tutorial
More Loom Knitting