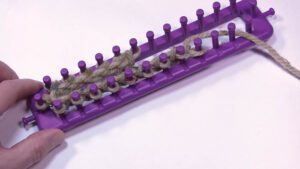 You can loom knit flat panels by favouring around the flat loom instead of jumping back and forth across. Cast on, knit and cast off.
If you feel compelled to circle a small flat loom like this, I would suggest using a round loom. However, the larger flat looms that are like 22" long, could be a really helpful tip for making large blankets. As demonstrated in the tutorial, you will see the end pegs are slightly different in spacing, so the stitches will be a bit more open on those pegs as the peg is at a different distance. Just keep that in mind.
This tutorial will cast on, knit and then show how to cast off using a non-stretchy bind-off.
More Ideas
Tutorial
More Loom Knitting