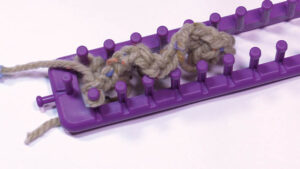 The Loom Knit Rib Stitch needs a special cast-off to provide a stretchy look. If you cast off using the bind off as normal, you will have one side of the project looking great and the other side looking bunched up.
The tutorial below shows you how to cast off with a stretchy stitch so that you can keep your project looking good on both ends of it.
Shown is a double rib, you can do single rib, and triple rib the same way.
More Ideas
Tutorial
More Loom Knitting