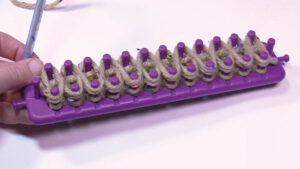 The Loom Knit Double Stockinette Stitch requires you to wrap the loom twice to double up the thickness.
Getting started requires you to secure the cast-on process. I recommended a twisted stitch cast on to do that. There are other ways as well but that's my recommendation.
You will wrap the loom jumping across the loom every other peg, then wrap going back to the skipped pegs. Then doing it again. You will have three loops on the peg. The bottom 2 loops go over the top loop and peg to secure.
More Ideas
Tutorial
More Loom Knitting