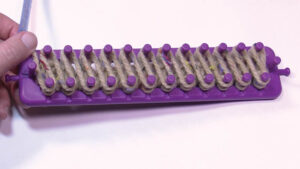 The Loom Knit Zig Zag Stitch is a wrapping technique where it needs two rows to complete the stitch. It's easy to loom knit.
You will follow the path and the yarn will look on an angle going in one direction. You will then knit it to secure it. When wrapping back, you will wrap with the angle in the opposite direction. See the tutorial for more on that.
Watch for the beginning peg when you start out, I will have tips on that in the tutorial as well. The first peg on a row is never wrapped.
The cast on to begin this stitch is also included in the tutorial.
More Ideas
Tutorial
More Loom Knitting