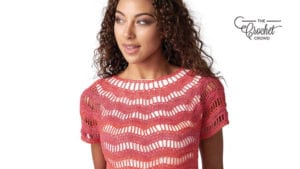 Crochet Adult Zig Zag Top
The Crochet Adult Zig Zag Top is an intermediate pattern with an easy repeat concept. Sized XS to 5 XL. Using Red Heart Croquette yarn.
All 5 sizes are indicated on the one pattern. So you will start off the beginning chain in the size you want to complete. Each time there is a decision to be made on the pattern, you will follow the colour coding.
Technically speaking, there are only 4 repeating rounds. In round 17, that's when the top stops growing so it can start to drape the shoulders. The constructions like a baby sweater where the yoke is a one-piece unit and the sleeves naturally form as a result of folding the circle.
The tutorial gives tips on how to fold for the sleeves in advance before crocheting to avoid obsessive counting.
The tutorial will take you completely through the top half of the project and then get you to the repeat of the body which you will finish on your own. There is no trimming at the base of the top or in the sleeves.
More Ideas


Tutorial
More Clothing Patterns
Clothing