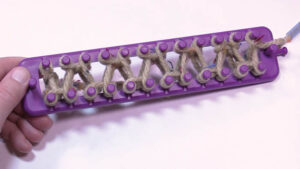 The Loom Knit Double Ribbed Stitch is also called the box stitch. Using 2 pegs side by side to form the texture. Great stitch to know.
The way this is wrapped puts 2 pegs together to form a deep ridge between sections. It's a beautiful stitch and highly elastic. In fact, I have a new loom knit shawl coming out using this stitch. I cannot wait to show you.
For this type of stitch, a stretchy cast off is required to maintain the stretch of what the rib stitches can do.
In the tutorial below, learn how to cast on, knit and cast off using the stretchy method.
More Ideas
Tutorial
More Loom Knitting