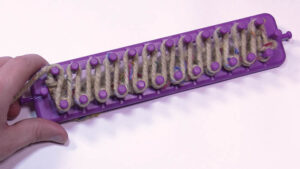 The Loom Knit Zig Zag Duplicate Stitch is very similar to the loom knit zig-zag stitch but it's called duplicate for a reason. When wrapping back in the opposite direction, you are going to follow the exact same path.
In regular zig-zag stitching, the opposite direction, the wrapping is leaning in the opposite direction. Think of this method as just following the yellow brick road in the path.
In the tutorial below, casting on is provided to get you started with this stitch technique.
More Ideas
Tutorial
More Loom Knitting