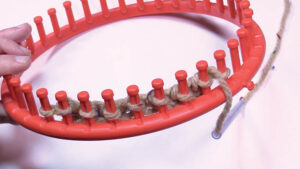 Learn how to cast on and do a flat panel on a round loom. You can decide to wrap the loom or chain cast on.
Select the number of pegs you wish to do. The Point to the flat panel on a round loom is not to go all the way around but do it back and forth across the loom. The round loom makes it easier to handle in your hands as well.
I have provided a cast-on method if you wish to do start that way.
In the tutorial provided, I demonstrate casting off, knitting and then casting off with a non-stretch bind off. You can do the stretchy bind off if you wish which may be better.
More Ideas
Tutorial
More Loom Knitting