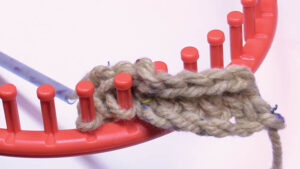 Finishing off a flat panel from a round or flat loom is the same. You can bind off as shown here or use a stretchy cast-off.
You need to consider the type of edge you want. The tutorial below is showing you how to cast out without a stretch applied to it. So it may come out too tight.
It's best to know your options at the end of a project to ensure you finish it the way you intended.
More Ideas
Tutorial
More Loom Knitting