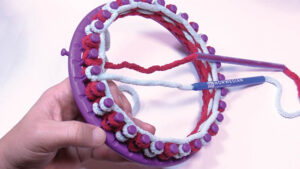 Knitting Stripes on a Round Loom is easier than you think. Skipping pegs and using multiple strings are the trick.
You can skip just 1 peg or multiples but the more you skip, the more yarn is carried in behind. I find the advantage with stripes is that you are carrying yarn, so you can unintentionally thicken up your hat as there is more yarn. You can basically make the hat warmer to wear. Depending on your climate, this could be a great thing.
I created a hat using Patons Alpaca Blend with this technique. Be sure to watch the peg counts as the small ring shown here has an odd number 31. It is impossible to make every other peg striped with that. If you have an even number, it doable. Different brands have different peg counts.
More Ideas

Tutorial
More Loom Knitting