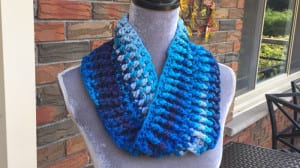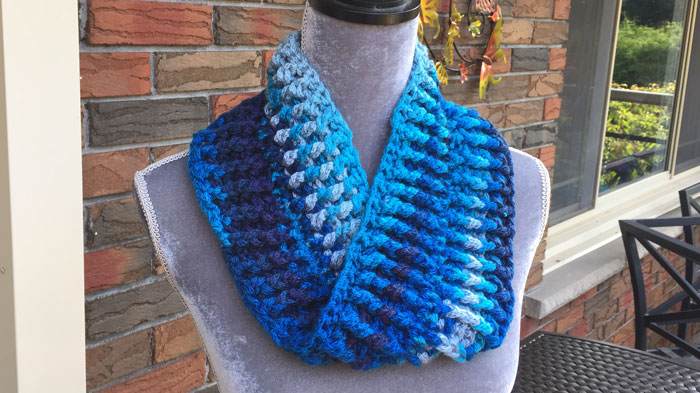 Infinity Rib Cowl Pattern
Crochet your own thick and chunky Infinity Rib Cowl. My cowl is using Bernat Bargello Yarn.
The colour story you see in my cowl is what comes off the ball. You don't need to do anything special. The colouring falls where it wants in the cowl.
Bernat Bargello Yarn is unique due to how it's made. The yarn resembles the final look as if you were to spool knit or cork. Due to this, it's classified as a bulky gauge 6 yarn. I've even used this for hats and it has an elastic look and feel to it too! It's pretty neat!


More Crochet Pattern Ideas
Instructions
My pattern will create cowl that is 14" Across when laying flat. It is 5" high.
The cowl is created with a continuous revolution with a build-in infinity twist.
The half twist that is added will cause you to work from the centre of the cowl outward on both the upper and bottom sides. It takes two revolutions to complete equal heights for top and bottom.
8 mm or Size L Crochet Hook
2 Skeins of Bernat Bargello Yarn. Colour used is simply called Blue in the yarn line.
Ch 80. Sl st to beginning chain without twisting the chain. Mark with a stitch marker. Do not turn.
Sc in each chain around. Twist by one half. You will then start to SC on the underside of the chain around.
* Front Post Double Crochet (FPDC) in next stitch, followed by Back Post Double Crochet (BPDC). Repeat * around. Past the stitch marker and go around 1 more time.
Ensure when you start this round and all others, you match exactly what is already in place to continue the rib pattern. So if the stitch is FPDC in the stitch below, the next stitch above should be the same. Same rule for the BPDC. Repeat step 3 - 3 more times.
Fasten off and weave in ends.
You will nearly finish 2 skeins of Bernat Bargello for this cowl. If you want a larger height cowl, just add more balls of Bernat Bargello and continue the pattern.
Video Tutorial
Crochet Cowl Pattern Ideas