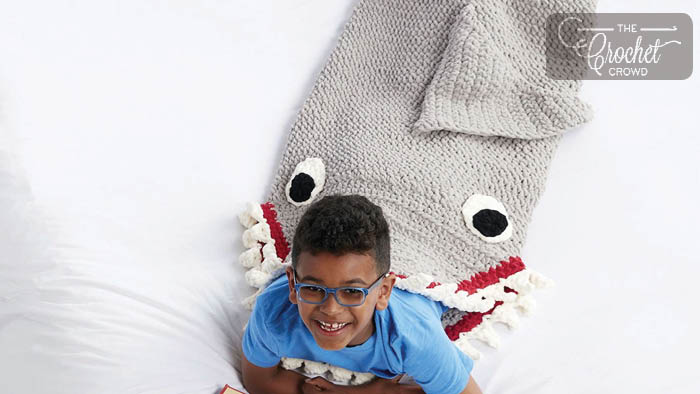 Crochet Shark Snuggle Sack + Tutorial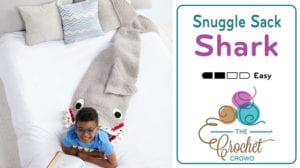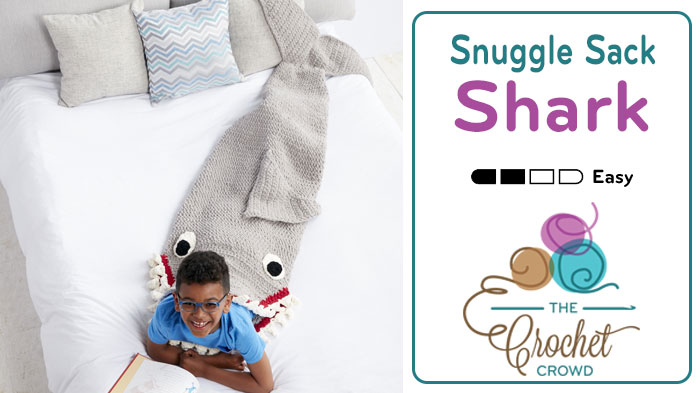 Crochet Shark Snuggle Sack
A fabulous free pattern and tutorial for a Shark Blanket called the Crochet Fin-Tastic Shark Snuggle Sack by Yarnspirations.com.
This incredible design is a lot of fun to make. If you eliminate my production time and more, it would have taken me about 15 hours to make from start to finish. I thought that was incredible. For me, this would be an easy day and half project to do.
The yarn of choice for the speed and ultra comfy feel is the Bernat Blanket Yarns. The main body of the crochet shark nearly takes 2 full grey balls. The shaping of the body and jaws takes 1 additional grey ball. The fin and tail uses the final 4th ball. The accessory colours are the Vintage White, Black and Race Car Red. For the black, you don't use much but is only available in large balls. We have more sleep sacks coming out which may require black, so keep it handy for other designs.
This information is provided inside the free pattern as well.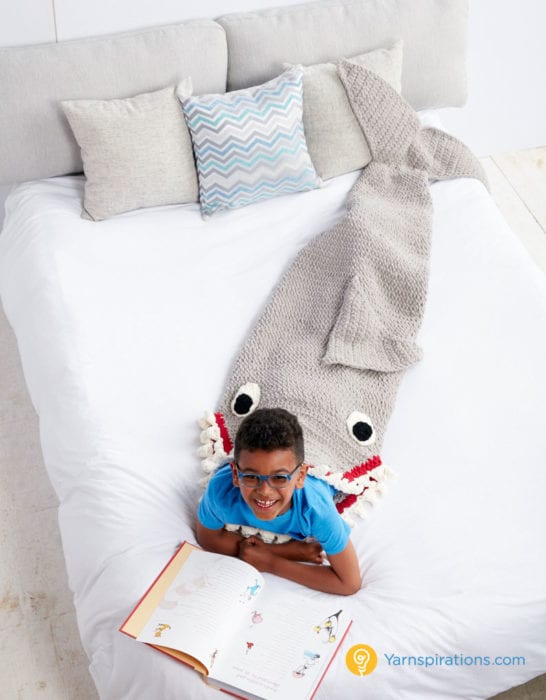 Just in time for Discovery Channel's Shark Week starting June 26th, 2016 with the world famous week presentation that allows us land lovers to get up close and personal with sharks. We love this series as Discovery's presentation is about education. While we associate sharks to being exceptionally aggressive and having seen wild sharks with a fluke opportunity, it makes your heart jump, mind you, they were about 2 – 3 feet long. Education is key to allow us to understand who we share our planet with. It is possible for crocheters to binge on Shark Week and get this shark completed by the end of the week.
Kids could jump into their sleep sack and have an easy bowl of popcorn and be educated by Shark Week.
The Fin-Tastic Shark Snuggle Sack is designed as whimsical. Kids love unusual and personal items. A blanket the shape of a shark is just outrageously fun. It measures 45″ long inside the sack and that doesn't include the length of the tail. My version was 5 feet, 3″ by the time I was done. The interior circumference is 46″ around. A child can slip inside and curl up with their new shark blanket.
The tutorial theme was based on the thriller movie Jaws by Steven Spielburg. You hear the music and you instantly know there is a shark involved in some way. An iconic and classic movie from 1975 which depicted a great white shark creating havoc for the beach lovers of Amity Island in New England. For myself, I came to see this movie in the 80's living on the coast of Lake Huron here in Ontario. As kids, we tend not to realize the Great Lakes doesn't have sharks but open water is open water and for many people, scared us out of the water with unfounded fears. I read somewhere that this movie directly impacted the travel and tourism for a time frame of fearing the water. Most of us, including myself, have visions and fear of sharks based on this particular movie.
Shark Week by Discovery Channel has allowed us to come to understand sharks and behaviours. Though, like any wild creature of this planet, caution should always be exercised when approaching or interacting with creatures we are unsure of.
The Fin-Tastic Shark Tutorial Presentation
Introduction to the Shark Tutorial
The Anatomy Chalkboard
The tutorial is divided into 10 chapters inside the same video. The anatomy of the shark is the order in which the tutorial is presented. It is also in the exact same order as the pattern is written. When a chapter is finished, it phases and returns you back to my workshop classroom for the next section of the tutorial overview and kick off.
This pattern is not complicated by any means. It's classified as easy and it truly is. You just work at each section of the shark as you go.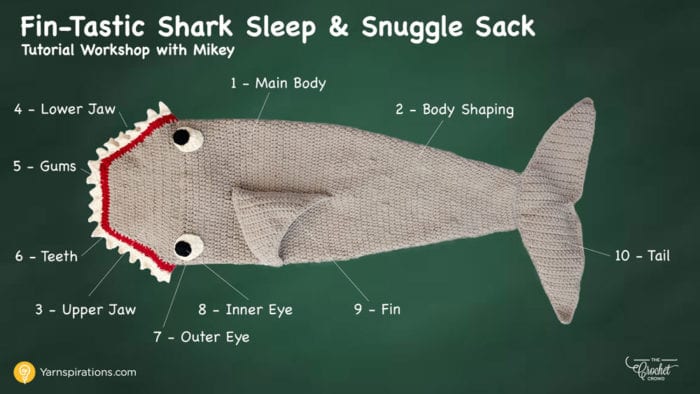 The below is a photographic gallery of myself taking photos as I progressed through my tutorial. I was crocheting behind the scenes in real-time between video takes. My finished shark is not the same as the model's photo. Daniel and I have have nicknamed him as Cuddles the Shark.
Of course, we had a bit of fun with taking photos with Cuddles.
Video Tutorial
Disclaimers: The music I used is not the original soundtrack but has been purchased by The Crochet Crowd for license to use in this tutorial. Underwater scenes are from our Crochet Cruises on the excursion of Stingray City in Grand Cayman. Chalkboard presentation was created by Mikey to help illustrate this tutorial's steps. For theatrics, I have depicted the shark swimming, it is strictly a visual presentation. For safety reasons, this yarn shark is not to be used in water such as lakes, rivers, oceans or pools under any circumstances.