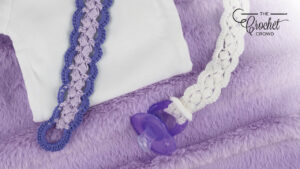 The Crochet Binky Pacifier Chiclet Stitch Leash is designed to prevent a baby or yourself from dropping a pacifier.
The pattern has 1 main section that can be changed in length to match however long you want the pacifier leash to be. In this case, it's only 22 chiclet stitches. The edging can be adapted for any length.
This is a very quick and also practical gift project for baby showers. Consider maybe for the craft table as these in the right colour could be irresistible. I found I barely made a dent in the Patons Grace yarn which is mercerized cotton. So you could get several of these out of one ball which makes it cost-effective as a craft table option.
More Ideas

Tutorial
Crochet Baby Booties