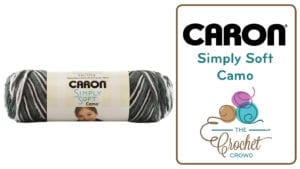 What To Do With Caron Simply Soft Camo Yarn
Caron Simply Soft Camo is an offshot of Caron Simply Soft that has camouflage colouring applied to the yarn. You will find the traditional camo colours as the Woodland or Night Camo but also great mixes like Pink Camo, Snow Camo and even Blue Camo to name a few. There are 8 shades in this colour line up.
Crocheters, more often than not, comment about making things for the masculine people in their lives. Camo provides those colours that men like to associate to being manly. However, let's not fool ourselves, there are colours in camouflage such as Pink Camo, Blue Camo and Snow Camo that are just fun too.
I know personally some women who love camoflauge colours and appreciate having pink camo. Some of us, including me, know people who hunt or enjoy the outdoors where the idea of disguise is needed. You could consider crocheting up hats and scarves using this yarn to help keep your loved ones blended in with the terrain. I've used the Red Camo myself, loved it.
So if you are looking to go under cover or know of people who do or looking to make up something that screams masculine, this yarn may be up your alley.
See All Colour Choices
See all colour choices for this yarn at: Available Yarn Colours
Yarn Story
Your favorite simply soft yarn, now in a new Camo colorway!
Content: 100% Acrylic
Ball Size: 4oz/113 g, 204 yds / 186 m
Care: Machine wash, machine dry.
Gauge: 4 – Medium Worsted
Knitting Gauge: 18 sts and 24 rows with 5mm (U.S. 8) knitting needles
Crochet Gauge: 13 sc and 14 rows with a 5mm (U.S. H/8) crochet hook
Recommended for: Knit and crochet garments, accessories, and home décor.
Try This Pattern
Click the picture to get the pattern.