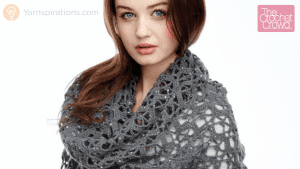 Shine Like Diamonds Shawl
Introducing the Shine Like Diamonds Shawl by Yarnspirations. It's a brand new pattern that will challenge you but thrill you at the end when you accomplish it.


This free pattern comes with written instructions as well as a crochet diagram to follow along. Of course, I have provided to you a free video tutorial to follow along with as well.
More Ideas to Share
The trick to this pattern is to know where you are in the rows. Rows 2 – 9 repeat itself and the diamonds shift over in the middle of the repeat. If you see the video, you will see what I am saying. Half the repeat the diamonds are fully there and the 2nd half, the diamonds start off as partials filling in the gap spaces they sit. Picture a honey comb with the hexagons nestling together.
The Secret
To change the size of your project, it's all in the multiple chain counts in the beginning. Each shell is made up of 10 chains. So chain in counts of 10 to make this pattern work. At the end of the chain, add 2 more chains to bring your project in balance.
Video Tutorials (Right and Left)
https://www.youtube.com/watch?v=uYkwusNxDXA