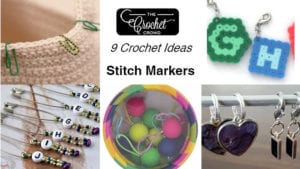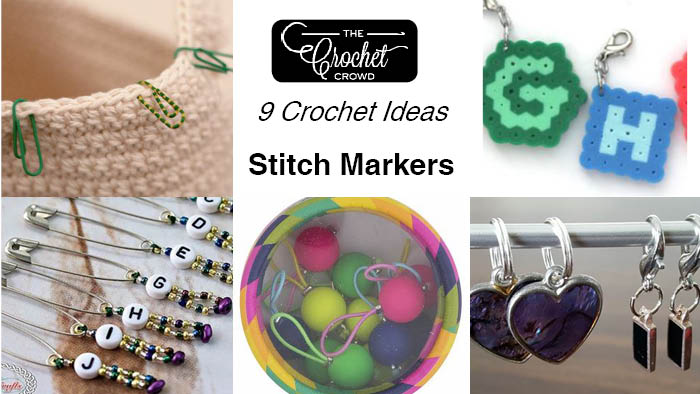 9 Crochet Stitch Marker Ideas
Do you use stitch markers when you crochet?  I actually do quite a bit.  When I'm working in the round, I like to mark my beginning stitch.  I also find them quite handy to keep track of corners, edges or really long chains.  I have to admit, I have a nice collection of markers, from bobby pins to extra fancy.  Mikey likes to simply use yarn on his projects!
Using stitch markers can really help track of your crochet project.  I always hear many saying they struggle to keep the edges of their projects straight.  I suggest while you are learning, use a marker at the beginning and end of each row.  Markers are also great when mastering the chevron stitch by using one at each peak of the chevron.
I have a collection of stitch marker ideas that you will enjoy.
Mikey's Favorite - Yarn!  Mikey uses yarn to mark the starting stitch when working in continuous rounds.
Futuregirl -

Paper Clips

The Chilly Dog -

Repurposed Earrings

Removable Stitch Markers

- personalize these to make them more fun!

Repeat Crafter Me -

Perler Bead Markers

Repeat Crafter Me -

Shrinky Dink Markers

Megmade with Love -

Makes her own jewelry style markers

Nicki's Homemade Crafts -

Uses safety pins as her cute markers
Jeanne's Pick - Boye Elastic Stitch Markers - These little balls remind me of the hair ties from the 70's.
Be sure to leave us a comment below and share your favorite stitch marker tip!
Learn How To Read Crochet Patterns + Tutorial
More Crochet Collections to Enjoy