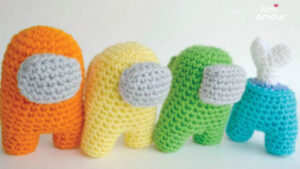 Among Us is a super popular online game at the moment with simplistic characters you can crochet. I've been seeing this, didn't know what they were.
I had a friend ask me how many Bernat Blanket Brights I had in stock in my own collection. In asking why she explained she was making these weird-looking characters. I've been seeing these online but I didn't know what they were.
It was explained it's like a game of clue. One person in the game is an Imposter, the other characters are trying to find clues and solve the mystery. Other players are fixing what gets broken. It can be played locally with your friends or globally online.
---
Sarah Csiacsek Among Us Crochet Characters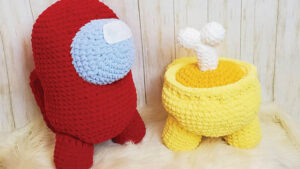 Two patterns in one is Sarah's Among Us Characters using Bernat Blanket Brights. These are generous in size of approximately 16″.
You can change the colours of the crewmates as well. The Dead Among Us character is also available for your stitching pleasure.

---
Amiamour Among Us Crochet Characters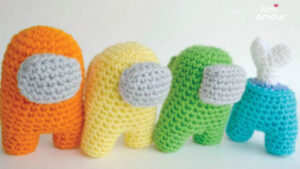 Amiamour has the characters seen here. The patterns are easy to follow. The yarn recommendation is North America's Favourite Brand, Red Heart Super Saver yarn.
These are the Amiamour Among Us Crochet Character Versions.
The tutorials include photographic visuals to help guide you through as well. You can probably crack out a wack of these awesome versions. These characters are about the size of an average adult hand.

---
Kathleen Fernandez Among Us Characters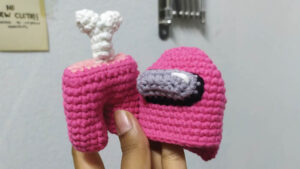 Kathleen's version is a slightly different approach with some options to remove the helmet of the character to expose the backbone.
Kathleen's Among Us Characters is a free download as well.

---
150+ Free Designs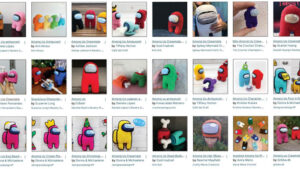 Ravelry has about 150 or so designs for the Among Us Characters. There are some that are knit as well.
Use the filters to find the free patterns if you wish. The 3 featured patterns above were verified to be free patterns.

More Free Tutorials for Among Us
https://www.youtube.com/watch?v=mX7Znf8EroU
https://www.youtube.com/watch?v=_XBZrVEpD4E
More Collections