Do You Know the Differences?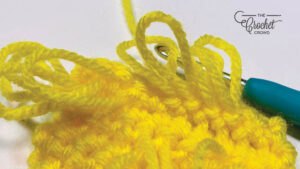 I just learned today that there is a difference between a Basic VS Locked Loop Stitch.
Basic Loop Stitch
The stitch is completed in a simplistic way but the loops remaining dependent on each other if they are not cut. For the Mongolian Pillow Pattern below, this is the correct stitch as the strands of the base of this stitch come out from two different areas. However, if you want to keep the loop intact, you don't want to use this stitch.
Locked Loop Stitch
With a swish of the hook around the loop before grabbing it, it creates a knot to occur at the bottom of the stitch. This allows both strands to come out of the same spot at the base and also is completely locked into position. It's essentially tied itself into a knot.
See the tutorial below with the yellow yarn showcasing both and why each is different. They each have their purpose but if you are not cutting the loop, choose to lock it. Even if you are cutting your yarn, I would still lock it.
I have completed a blanket with this stitch and the basic loop stitch has worked itself free with the weight of the blanket. If I would have done the Locked Loop Stitch, I would haven't had this issue.
More Ideas
Tutorial
This is using the basic loop stitch. For the Mongolian Lamb Pillow, the basic loop stitch is what you need.


More Blanket Patterns