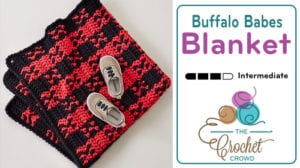 Crochet Buffalo Plaid Babes Toddler Blanket
This baby plaid blanket called Crochet Buffalo Plaid Babes Blanket is not as hard as it may appear. It's using tapestry crochet techniques of carrying two yarns are the same time.
The technique is easy because you drop the yarn you don't use and hide it under the stitch of the opposite colour. If you need to switch, you pick up the hidden colour and drop the other colour to hide it.


The pattern includes a diagram to show you the colour breakdown.
Pattern Suggestions
Crochet Baby Blanket Pattern Ideas