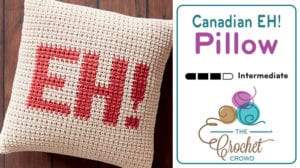 Crochet EH Canadian Pillow
You know what they say EH! Us Canadians say EH! A lot! You know what I mean EH! Today, we have a Croch-EH! Pillow just for you.
Originally, I thought this was a knit pillow eh! But then I realized it was just an illusion using Split Half Double Crochet Techniques. It's also using Tapestry Crochet Techniques too which I talk about in the tutorial. Tapestry Crochet is the art of carrying under the stitches. So when the red is being crocheted, the cream is being hidden under the stitch and vice versa for the cream when hiding the red. The tutorial will show you how to switch your colours.
This technique is easier than typical graphghan work as there are no bobbins to worry about. However, you could use bobbins if this style doesn't suit your fancy. I leave that to you eh, because you are the artist!
So have fun eh!


Pattern Suggestions
Tutorial
More Pillow Pattern Ideas
No post was found with your current grid settings. You should verify if you have posts inside the current selected post type(s) and if the meta key filter is not too much restrictive.