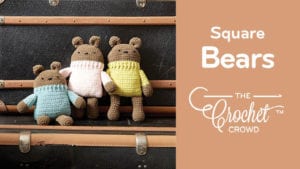 Square Bear
Crochet these cute little Crochet Square Bears. A flat like a doll that is lightly stuffed to be a child's best friend.
Using Bernat Blanket Tiny Yarn, this doll feels as plush as it looks. Really soft.


During the tutorial, I improvised to use safety eyes and added on some eyebrows. I do show how to do this doll, everything but the embroidery but you will see my doll with added improvisation didn't turn out so cute. You never know until you try and it's cool to add your own flare. In my case, it never worked out but don't be afraid to personalize your square bear.
Pattern Suggestions
Tutorial
More Ideas featuring Amigurumi