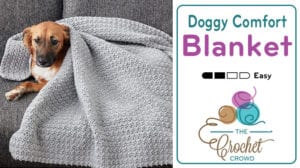 Crochet Doggy Comfort Blanket Pattern
Whether it be for your sofa to protect your surface, or maybe something in the car to protect the upholstery, try the Crochet Doggy Comfort Blanket.
This is a simplistic textured stitch. I know you will appreciate the tight stitches. Nothing is worse than putting a pet together with a blanket where paws and stuff fall through the stitchwork.
I have included a human-size version of this blanket for those who enjoy the texture. I have also stated the multiple stitch counts if you want to change the size of the blanket to any size you wish.


More Pattern Ideas
Tutorial
Human Size Blanket
There is a human-size blanket called the Crochet Simple Textured Blanket. You can get the pattern here. It's the same stitch configuration but chain sized for people. Here are the tutorials for that blanket:
More Pet Pattern ideas