It's so cute when you see a whole family in matching costumes. I know I really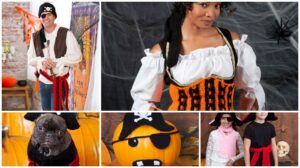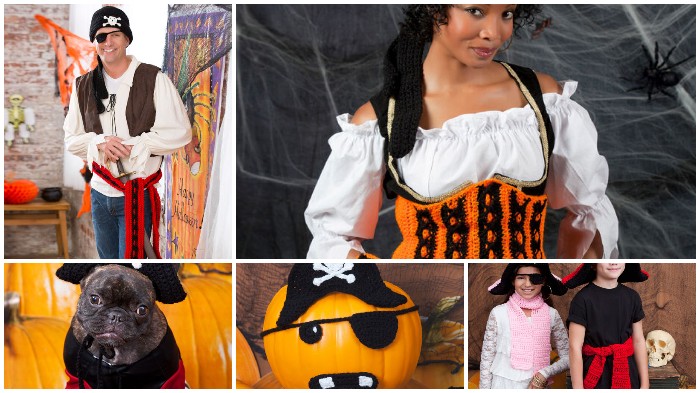 enjoy it, but I'm rarely together enough to have it happen with my own family, I'm doing good to make sure there is candy in the house to pass out, that my husband hasn't already found and eaten (we are on our third box for trick or treaters already and it's only October 1st).
This blog is a collection of pieces you can work up to have a family full of pirates for Halloween or simply a Tuesday if you feel the urge to dress up. There are patterns for the whole family right down to your fur babies. There is even a pattern included for your pumpkin!
---
Crochet Halloween Wench Pattern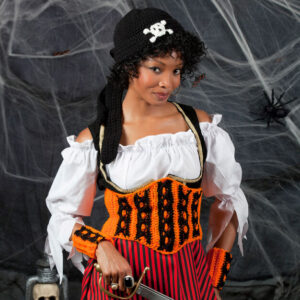 Work up these pieces and all you need to do is add a skirt and white top for a fun little Halloween Wench add a playful toy sword and have your friends walking the plank.
This intermediate Wench pattern was designed by Kim Guzman using RED HEART® Super Saver®. Looking for your next Halloween costume idea, give this one a try.


Crochet Halloween Pirate Pattern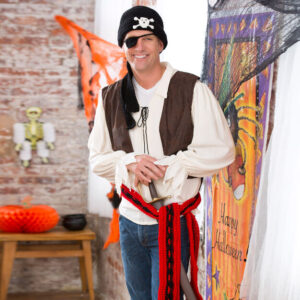 Argh, maties next in the pirate pattern collection is this Halloween Pirate.  Paired with jeans or black pants and a white top, grab a toy sword and be the envy of all your non-pirate friends.
This easy little pattern was designed by Kim Guzman. This pirate pattern was worked up using RED HEART® Super Saver®.


Crochet Child's Pirate Costume Pattern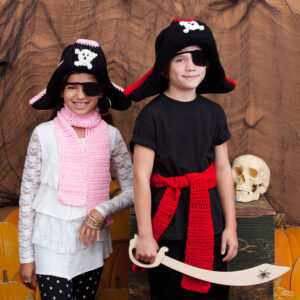 What child doesn't love the ideas of being a pirate at some point? I know when we were little my sisters and I have run around talking pirate and trying to make each other walk the plank off the deck. The only thing that would have made it better, would have been if we had these Child's Pirate Costumes.
This pattern is classed as easy, especially if you have already worked up the grown-up versions. Designed by Kim Guzman using RED HEART® Super Saver®. This pattern is a great addition to the pirate family.


Crochet Puppy Pirate Hat Pattern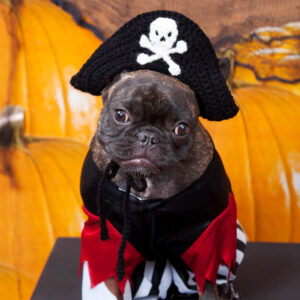 For the little furry one in the family, this Puppy Pirate Hat is just the cutest. Of course, the furbaby in the family should be dressing up with the rest of the family!
This easy little pattern was designed by Nancy Anderson, worked up using RED HEART® "Super Saver®. The pattern is written for smaller dogs as well as larger ones, it's just too cute not to add to the pirate family.


Crochet Jolly Roger Pirate Pumpkin Pattern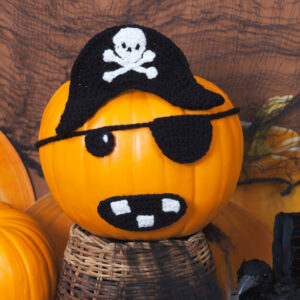 If you are anything like me, although you love Halloween the thought of that time of year when you have to cut the top open and dive into that stringy slimy goo that is inside the pumpkin, doesn't excite you near as much as the spooky fun decorations.
This Jolly Roger Pirate Pumpkin is a wonderful solution, no more diving into those cold pumpkin guts, you can decorate your pumpkin with this fun little costume, and continue with your pirate theme.
Designed by Nancy Anderson this easy little pattern was worked up using RED HEART® "Super Saver®.


Pattern Suggestions
More Crochet Halloween Pattern Ideas
No post was found with your current grid settings. You should verify if you have posts inside the current selected post type(s) and if the meta key filter is not too much restrictive.