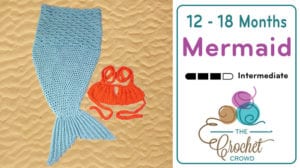 Crochet Baby Mermaid Tail
From the Yarnspirations Design Studio, I present to you a mini version of the Mermaid Tail. Called Wee Mermaid Costume.
This miniature set fits babies from 12 - 18 months of age. Included is a sea shell top design. Of course, your creativity is up to you on the pieces you make.


Pattern Suggestions
The miniature design is not the same as the larger versions released earlier this year. There are some fancy stitches in the waist area and then tapers to the tail. It's made like a cocoon.
Tutorial

Baby Blanket Pattern Ideas