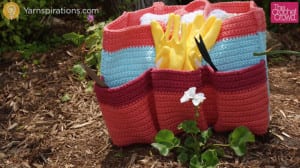 Garden Tote Bag
This is one of my most favourite cotton bags. It is sizable enough to make a gorgeous project bag that you can make yourself. It's heavy-duty and looks amazing in the end.
This bag is ridiculously easy but oh so fabulous. One thing you are definitely going to notice is that the yarn is double-stranded. Simply means, you will use two strands at the same time. This gives the cotton bag a very durable quality to it. It's made of cotton yarn too.
You will just need to make rectangular panels and then sew them together. It's so easy.
If it were me, I don't garden or go to the beach much, I totally use mine as a project bag.

Pattern Suggestions
Video Tutorial
Crochet Bag Pattern Ideas