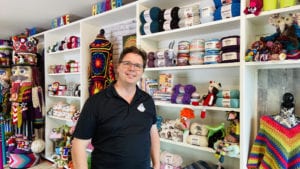 Make A Tutorial Request
We get requests across the social media platforms, including in email format. However, this page will act as a central hub for making a formal request. With being in business for over 12 years, I've come to understand what types of projects work best and what projects should be skipped.
Permissions to Film
We have the blanket permission to film any patterns inside Yarnspirations.com. However, we have a boundary set that we do not film another current Yarnspirations Teacher's patterns as they have the capability of filming up their own patterns. You can reach out to them to request they film up their patterns directly. Most of them have websites with a contact email or you can find them in social media. We can also film any pattern where Jeanne and I are the designers as well.
Legality
We do not film just anything. We do not film any designers' patterns where its a paid pattern or not listed in the Yarnspirations free pattern library. This also includes asking for us to film a section of a pattern that doesn't belong to Yarnspirations or our own designs. That's a copyright infringement.
Be Specific with Request
Designing one of the Study of Texture Blankets takes about 170 hours and that's not including filming. So requesting us to make a double size blanket with a certain stitch requests research and development which can absorb a lot of time. The goal of the requests is to find something that is already existing in pattern format for me to study, grab a camera and get to work.
When Requesting a Video Below
Provide me with a link either from The Crochet Crowd Website or Yarnspirations Website where the pattern is. This will speed me through to find the resources to study your request. Any patterns outside of these two website properties are legally out of bounds for me to film. I won't take a risk on filming copyright materials.
Provide me with a reason why you want it filmed up. Is there something about the pattern that is hard for you? If you cannot read a pattern, you can state that but I am looking for tidbits of knowing where to focus. If there is a backstory, I'd love to know that too.
Be thoughtful in your request that is truly something you want to be filmed for you. Don't just randomly pick things that you think others would enjoy. We want to know your wishes.
Your Comment Will Arrive
Marina and I oversee the comments section and every comment is read personally. We can gather information with this and make a decision that is in the best interest of the community.
I have a list from Yarnspirations' wishes but a lot of what we film are based on what I believe or I see people asking on social media. By listing your requests here. I will look here first when searching for new video ideas.
Make Your Requests in the Comments Below
Pattern Suggestions
Tutorials To Check Out