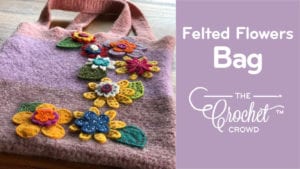 Crochet Happy Felted Flower Bag
I love felting. I love the look, the process and love to watch the washing machine transform my crochet into something fabulous!
For those who don't understand what felting is, it is 100% wool that is washed in super hot water and agitated. The agitation causes the fibers to open up and blow up… then in the cold cycle that is next in the washer, the fibers shrink back down and reassemble to give the look of felting.


Download the Free Bag Pattern with Felting Instructions.
Gallery of the Process
More Ideas for Felting
More Bag Ideas