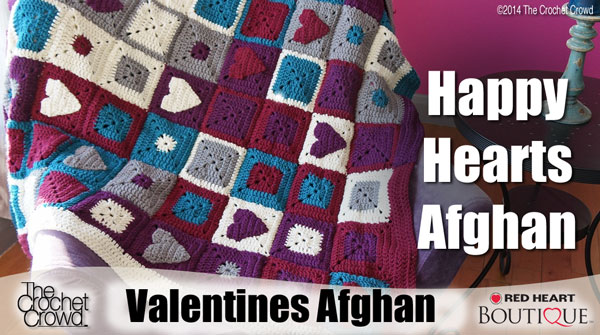 Crochet Happy Hearts Afghan
Crochet memorable and deceptively easy crochet afghan. The afghan is actually granny squares that are changing colour once per square. When you look at the overall look of the afghan, you will notice there's a lot going on but to achieve the look is really simple. You don't need to tell anyone how easy it was, take the compliments as people may think you are the crochet genius.
The hearts in this afghan are actually appliques and sewed on afterwards. Luckily, there's only 20 of them on this afghan. The hearts are really easy to make as well.
Truth is, I have been avoiding this pattern for a long time as I thought it would be so hard to do... this is one of those projects that surprised me when I finally dissected it and really my fears and doubts were for nothing.
The free instructions are available at Happy Heart Afghan Pattern by Red Heart.


Pattern Suggestions
Tutorial Video to Follow Along
More Granny Square Pattern Ideas