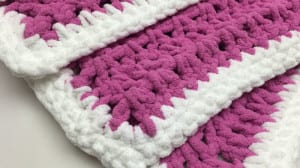 Crochet Baby Blanket
This easy crochet baby blanket is inspired by doing double crochets in the gap spaces between the double crochets in the row below. Inspired by our Trendy Baby Blanket. This is a very similar design but without changing the colours.


This afghan has 2 rounds of single crochet in white.
Bernat Blanket Yarn
This baby blanket uses two colours. Baby Rose, main colour, is the primary colour shown in my project is discontinued, sorry I had this in my collection and didn't realize it was discontinued. The border is white. To get this complete size, you will need 4 balls of the main colour and 1 ball for a border.
The balls are 300 g or 10.5 ozs. There are two sizes of yarn. Be sure to get the biggest ball which is the 300 g size.


Pattern Suggestions
Dimensions
Using 10 mm or Size N crochet hook, you will get a 44″ wide by 48″ long baby blanket.
Tips
If changing the size of the pattern, the stitch multiples are in sets of 2. If changing the size, it will alter the amount of yarn needed for your project. Every 2 stitches = 1 inch. 
Pattern
Crochet Gap Space Baby Blanket

Using Main Colour, chain 78. DC twice in 4th chain from hook. *skip 1 stitch, 2 dc into next stitch (this forms a group of 2). Repeat * until the end. 1 dc in the final chain. Turn.

Ch 3, skip the next dc and dc twice into space between the next group of 2. See the picture for clarification. * Dc twice in each space between the groups of 2 from the row below. Repeat * until the end. 1 dc in the final stitch. Turn. By going between the groups of 2, it causes the stitches to have a zig-zag appearance.
Repeat Step 2 until you run out of 4 balls of Main Colour. Continue to repeat Steps 2 – 3 until your afghan is 36″ long. You will run out of yarn by the end.
Border
Fasten on to any corner. 1 sc evenly spaced down the outside edges. In corners, place 3 sc. On top and bottom edges 1 sc into each stitch across. Slip stitch to first sc.
Ch 1, 1 sc in first sc, 3 sc into next. *1 sc into each all the way to the next corner. 3 sc into the middle of the 3 sc in the row below. Repeat * around and then join with a slip stitch to the beginning and fasten off.
Tutorial
More Crochet Baby Blanket Pattern Ideas