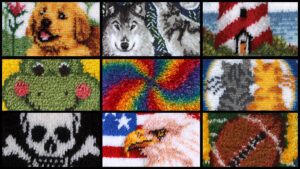 Like a fine wine of the past, latch hooking is back and beginning to catch interest once again! Also called rug hooking, 61 Latch Hooking Kits to tease you with.
Please note you do need to buy the latch hook tool separately. It's not provided in the kit as people who enjoy these kits buy several and they don't need a latch hook tool each time. So it's really just a one time purchase. 
From the uber adorable to the vintage-looking to the fine details of seaside or countryside living. From patriotism to football. The choices are far and wide.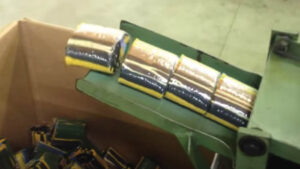 Below is a tutorial on how the latch hooking kits are actually made. I was really surprised at how it is actually done. I've always wondered why the bundles have every colour and each bundle is the same. Why are the colours not separated out? 
After seeing the process and you will see in the video, each strand in the bundle comes from its own spool. The makers have figured out how many strands to use to get the number of pieces that are needed for the kit.
It creates a sausage of all of the strands coming together that are compressed and cellophaned. As the machine sausages them up, it will then cut the cellophane and yarn at the same time into the individual packages.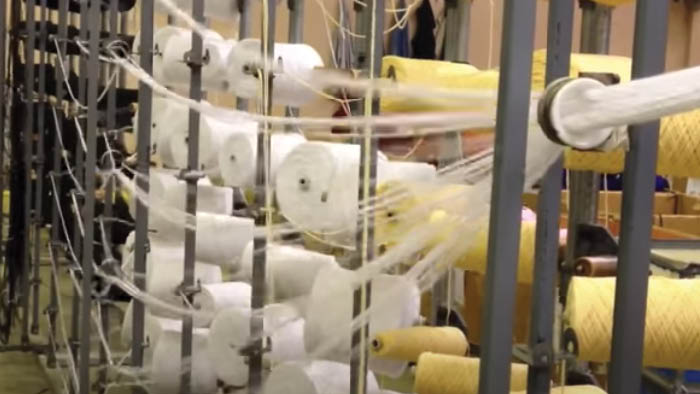 The factory worker just has to know how many bundles to add to the package as it works out.
Surprisingly, the latch hooking canvas is cut by hand as you will see in the video.

More Ideas
Latch hooking requires a bit of concentration and I find it to be a bit meditative and quiet. The more you, the more the picture immerges from the canvas. The more detail, the more colours to work with. So you may want to start off small if you wanted to try this.
See How the Kits are Made
More Crafts