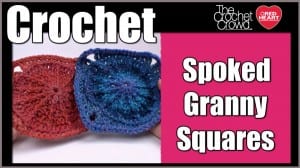 Spoked Granny Square
Have you seen the latest trending granny square? It's a solid granny square with 12 spokes through the middle of it.
The spoked granny square has texture and raised edges to give a finished look to a square without having to change colour.
Just for kicks, I changed the yarn to slowly transitioning yarns such as Red Heart Boutique Midnight and James C Brett's Chunky Marble.
While many people love traditional granny squares, this concept allows those who may be bored with the concept to try something new. Once you understand how this pattern works, making more is pretty easy.
To see this pattern in a project, see the Monkeying Around The Blanket. I've used that pattern for the basis of this tutorial.
Share with me your thoughts on this square. Do you see yourself using a pattern like this?


Video Tutorial
Granny Square Pattern Ideas