PREVIOUS TABLE RUNNER NEXT TABLE RUNNER
---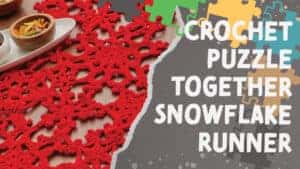 The Crochet Snowflake Runner is advanced with five snowflakes and one filler that puzzles together. This strategy puzzle by Tammy Hildebrand was designed years ago for Red Heart.
This runner has been an ongoing discussion with Yarnspirations. Part of the educational platform is to feed people with success by providing as many resources as possible. In following Tammy's well-written instructions, I constructed the diagrams it takes for each motif.
What you see online is just a portion of the runner, but I could figure out Tammy's vision of how things are connected. Yes, I will provide you with my working notes for each.
If you start this and feel this is too hard, you can use each of the five special snowflakes as decor. Maybe add stiffener and use them as hanging decorations or attach them to the top of the gifts.
Crochet Diagrams
You can click the picture below and get blown-up diagrams for each. Please note the stitch key is on Page 1, which covers all the diagrams. I have included a bonus worksheet showing you all the needed motifs where you can cut them out of the paper and strategize for yourself. These are the Puzzle Snowflake Runner Diagrams.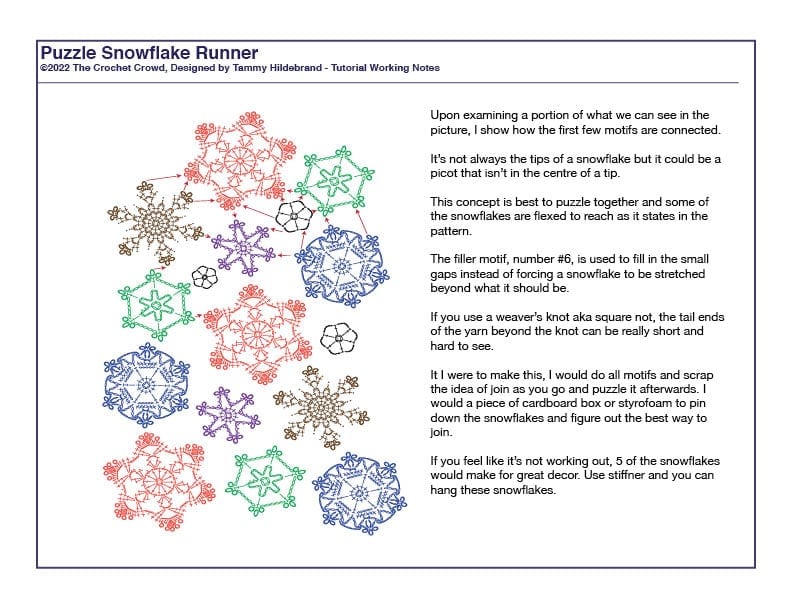 Weaver's Knot aka Square Knot
When something may be too hard, and maybe there's another option. I would do a weaver's knot, aka square knot. Tie the tips together. The tail ends of the knot can be extremely short and well hidden.
More Ideas
---
Tutorial
In process.
---
More Crochet Snowflakes